Successful Completion of the Regional Sustainability Academy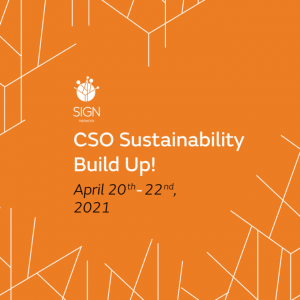 From April 20 to 22, 2021, Trag hosted an online Regional Sustainability Academy, gathering civil society organizations from the Western Balkans region. These organizations were previously a part of the national Sustainability Academies, conducted through the SIGN network partners in five countries during 2019.
The Sustainability Academy program aims to help the civil society organizations build partnerships with the new donors, improve their long-term financial planning and sustainability by increasing visibility and impact in the communities in which they operate. In the regional part of the program, 32 organizations from five Western Balkan countries took part, gaining the opportunity to learn more about fundraising using traditional and innovative fundraising approaches, know-how on how to empower fundraisers inside and outside their teams, with special attention paid to developing relationships with potential and existing donors, especially in the context of the COVID-19 pandemic that significantly impacted community living and the way CSOs approached volunteers and mobilized resources. The program was led by Jolan van Herwaarden from the Netherlands, with the guest lecturers Robert Osborne (USA), Corinne Hartmann (The Netherlands) and Jillian Stewart (The Netherlands).
The Regional Sustainability Academy covered topics such as creating the Call for support, Online fundraising, Strategic approach to fundraising, Analysis of available fundraising techniques, distance learning and P2P fundraising. Organizations that successfully raised funds for their activities during the previous phase of the program gained additional knowledge needed to continue these efforts and achieve greater sustainability of their associations in the future.
This activity is carried out by the SIGN network, consisting of the Trag Foundation (Serbia), the MOZAIK Foundation (Bosnia and Herzegovina), Fund for Active Citizenship – fAKT (Montenegro), Forum for Civic Initiatives – FIQ (Kosovo), HORUS (Northern Macedonia) and the Catalyst Balkans (Serbia). The event was held with the financial support of the European Union, Balkan Fund for Democracy, Balkan Network for Civil Society Development – BCSDN and the Swedish International Development Cooperation Agency – SIDA.